When it comes to new home gift ideas and what residential builders could consider, it's time to move beyond the inexpensive and company branded items. In fact, it's pretty much time to move beyond anything with your logo on it when it comes to giving gifts.
As many new homebuyers stated in our recent annual study, "I'll wear their brand if they earned it."
So, if you are one of those builders who have 'earned it', slap that logo on everything.
Otherwise, what makes a great closing gift?
Customer Comments:
In the past year, CustomerInsight received thousands of responses from new homebuyers on this topic and decided to share the findings with our valued clients.
Do NOT waste time and money on a gift unless you have the home 100% complete, clean and move-in ready.
Do NOT think a gift will cover up poor workmanship or help offset homeowners' time off work to allow trades to finish or fix issues. "My time is worth month than you would spend on a gift."
The gift should be thoughtful, unique.
Don't include items that have already become an expectation such as any type of home cleaning service/product or items ('Why didn't you clean my house before delivering it to me?'), tools ('I shouldn't have to fix these deficiencies myself'), or home upgrades such as CFL light bulbs, faucet aerators, etc. ('Why didn't you just include this in my home in the first place?")
Be careful not to offend.  A personalized gift can go wrong if you don't get it right. Some items may offend based on lifestyle or culture. Know your customer before making assumptions.
'Floating' the value of the gift based on the value of home is dangerous. Neighbours do talk and compare notes. Any new home is that homeowner's biggest investment, regardless of size.
Top Customer Gift Recommendations:
Here are suggestions left by homeowners of their favourite gift ideas.  Remember a gift should be in addition to fulfilling your obligations and commitments. An extravagant gift will not replace lost good will.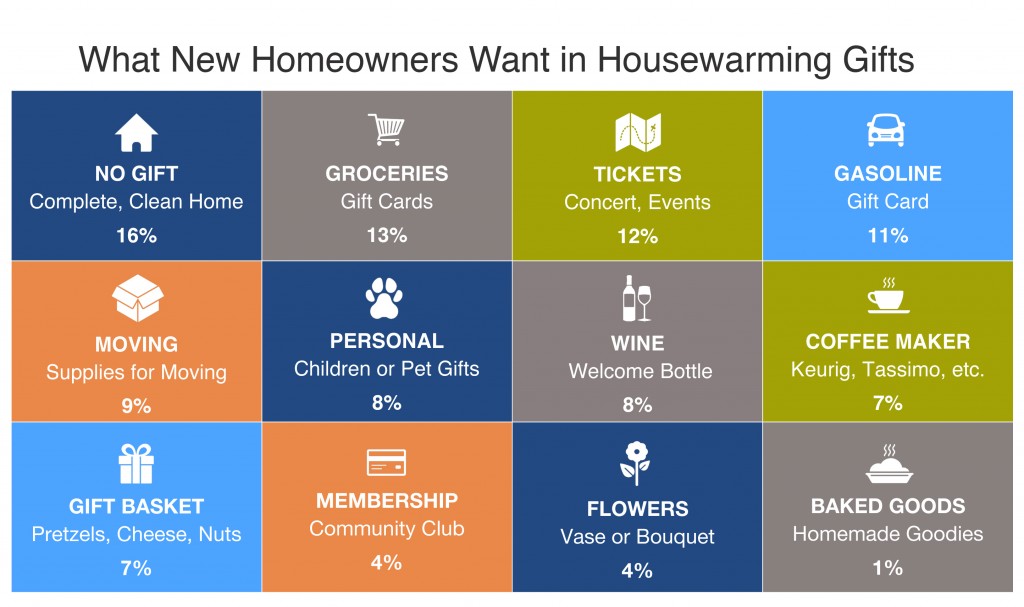 Best practices:
Keep in mind, the gift should be relevant to the individual(s) receiving it, it should be about them not you. Show them you value their business and have put some serious thought into finding the perfect way to say thank you. The larger the builder, the more challenging it is to personalize the gift, but, well worth the effort. Here's what many of our top performing builders had to say on this topic:
• "We always make sure that the gift is presented to the customer once they take possession – usually in the afternoon. We have heard of other builders telling their customer to stop by the sales centre to pick up their gift, which is horrible."
• "Our gift always includes a hand-written thank you card from the President of our company which could be 560 letters this year."
• "We source local businesses for our gifts and it's important to support the community."
• "Our team has a budget they use over the course of three months instead of one large gift at closing. It keeps us top-of-mind and the customer sees us still engaged well after closing."
• "We know that everything we do speaks to our brand and always provide a personalized gift. The information we use comes from the interaction from our sales team early on."